Robert R. Hurst
---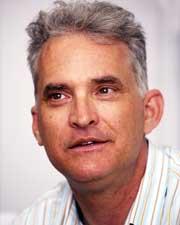 Contact Info
Summerfield Hall Room 124D
Lawrence

---
Biography
—
Bob Hurst teaches film and video production and studies courses with an emphasis in documentary, sound and post-production. He joined the University of Kansas faculty in 2006. He has been making fiction, documentary and experimental films for more than twenty years.
His latest film as director and producer is the documentary feature Garden City, Kansas (79 min., 2023). In the film, a bomb plot led by militant white supremacists threatens a thriving town in Kansas made up of immigrants from around the world. As the film follows the lives of this pluralistic success story, the conspiracy is ultimately foiled by FBI infiltration of the group and one of its members, who undergoes a change of heart and conscience about the lives and community they seek to destroy. Animated courtroom testimony, interwoven with inspiring stories of survival and unity, make a vivid document of a tumultuous time in the US.
Other recent projects as director and producer include the short documentary From Crash Pad to 988 (2022) about Headquarters Counseling Center in Lawrence, Kansas, and The Listeners (2016, distributed by Kino Lorber Entertainment), a feature-length documentary exploring suicide hotlines and the volunteers who answer calls.
From 2017 to 2022, Bob Served as a film envoy for the American Film Showcase, a cultural diplomacy of the US Department of State. Through this program, he screened his work and gave talks and workshops in Sri Lanka, Nigeria, Fiji/Tonga, India, and other countries.
Other collaborations include Sound Supervision on Destination: Planet Negro (2014), camera work on Patriot Guard Riders (feature documentary, 2011), The Only Good Indian (feature narrative, 2009), King Corn (feature documentary 2007), Fall From Grace (feature documentary, 2007). These films have played to audiences in major film festivals (Sundance, SXSW) and in theatres, on national television, and around the world.
He has also contributed works to museum installations at the African Burial Ground National Monument in Manhattan, NY, and The International Civil Rights Center and Museum in Greensboro, North Carolina. He has written and directed and short narrative and experimental films as well, including Dream House (2012), about the sleeping lives of dreamers; Burned (2005) which explores surveillance and fear in post-911 America; Bloom/Addendum (2004) two films examining the problems of living with Alzheimer's; and Faker (1999), a 30-minute short about a genetically-engineered but defective girl. Other works consider identity, psychic readings, and include live-action and animated films.
Research
—
Research interests:
Sound
Documentary Film
Post-Production
Cinema
Film
Social-Action Documentary
Teaching
—
Teaching interests:
Sound Design
Post-Production
Documentary
Narrative Film Production
Experimental Film