FMS Professional Advisory Board (PAB)
---

Who are they?
PAB members are KU alums who work in a wide range of film and media industries throughout the nation. They give back to our program by sharing their professional experience, knowledge, and insight with the department.
PAB members meet students through their panels and workshops on topics like visual effects, writing, alternative career paths, and more.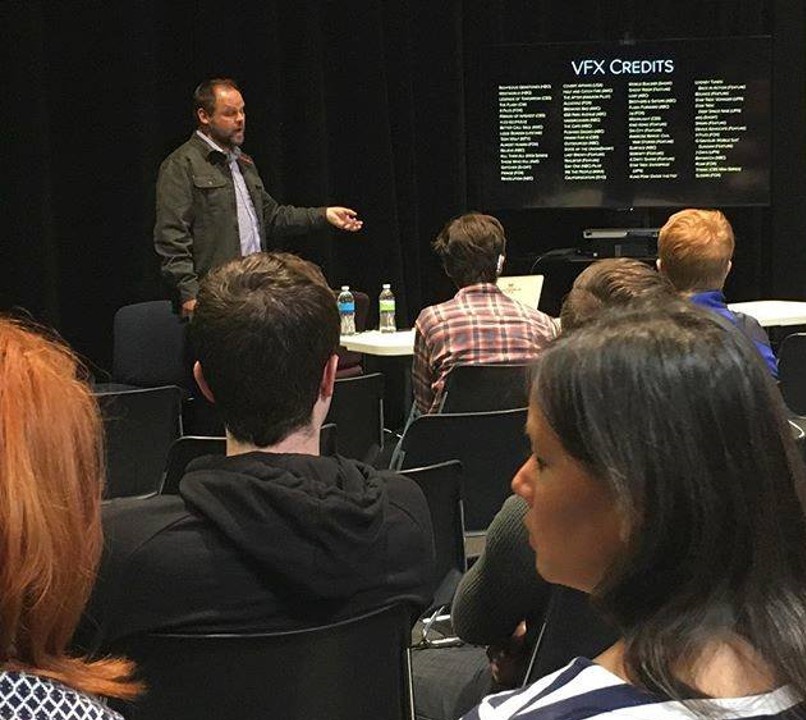 What do they do?
Every year, they come to Lawrence to meet and discuss department curriculum, internships, industry trends, technological innovations, and important funding initiatives to help keep our program relevant and competitive. They also love to connect with our students!
Accordions Heading
The Film and Media Studies Professional Advisory Board will advise and assist the Department of Film and Media Studies with their stated mission of education, research and service by contributing their time, talent and financial support.
The charge of the Advisory Board is to:
Advise faculty, staff and students on current and future trends in the industries and on career-related opportunities.
Advise faculty and staff on fund-raising efforts and help identify sources of contributed and earned support.
Advise faculty and staff on the development, structure and implementation of an internship/mentoring program.
Work with faculty and staff to help identify equipment and facility needs.
Assist and advise the Department in maintaining effective communication with alumni from the Department of Film and Media Studies.
Advise the faculty and students on ways to integrate the practice of film artistry with the humanistic dimension of the field.
Offer individual talent and expertise in providing workshops, seminars, and tutorial experience for students in the Department of Film and Media Studies.
Professional Advisory Board Member List
| Name | Profession |
| --- | --- |
| Laura Beason | Writer, American Dad! |
| Bruce Branit | Visual Effects Supervisor, Westworld |
| Doug Curtis | Producer, Cellular |
| Alex Graves | Director, Game of Thrones |
| Janae Hall | TV/Animation Writer, The Owl House, Zokie on Planet Ruby, My Little Pony: Make Your Mark, Batwheels, Wolfboy and the Everything Factory |
| Rodney Hill | Associate Professor of Film Studies, Hofstra University |
| Gordy Hoffman | Director, Writer, Dog Bowl, founder of Blue Cat Screenplay Competition |
| Ben Krout | Key Grip, The Goldbergs |
| Neil LaBute | Director, Screenwriter, Playwright, Dirty Weekend |
| Heather Laird | Casting Director, Winter's Bone, principal owner of Wright/Laird Casting |
| John Linden | CEO, Mythical Games |
| Andrew Loos | CSO, Attack! Marketing Agency |
| Christopher D. Martin | Visual Effects Supervisor, Netflix |
| Shawn McClaren | Producer, Hallmark Hall of Fame |
| Arthel McDaniel III | Entertainment Attorney |
| Omari Miller | Senior Director, Business Development, Smashing Ideas |
| Jeremy Osbern | Cinematographer, Red Bird, The Square Root |
| Mike Pannacciulli | VP, Content Management at Paramount + |
| Ron Parker | Writer, Hatfields & McCoys |
| Mike Robe | Director, Writer, Producer, Innocent |
| Sarah Robe | Field Producer, Jimmy Kimmel Live! |
| Sav Rodgers | Director, Chasing Chasing Amy |
| Tom Rooker | Producer, Space Cowboys |
| Marc Roskin | Director, Sleepy Hollow, Geostorm |
| Stephanie Sapienza | Media Librarian, Archivist, Historian, University of Maryland |
| Stephane Shannon | KC Film Commissioner |
| Maria Shuckahosee | Content Manager, CurrentTV, AI Jazeera America, Audibles SmartNews |
| Maria Skeels | Casting Producer, High School Musical |
| Lucas Smith | EVP Production & Development, Endgame Entertainment |
| Tyler Smith | Head of Production, North America, TV commercials, online content, documentaries: Intel, Wendys, Coke, Sam's Club, Dicks Sporting Goods, Microsoft, Virgin Voyages |
| Ben Steinbauer | Director, thebear.us / winnebagoman.com / chopandsteelemovie.com |
| Scott Thomas | Writer, Executive Producer, Raven's Home |