Joshua D. Miner, PhD
---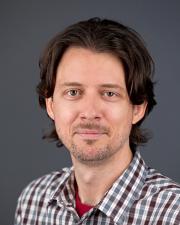 Associate Professor
Director of Graduate Studies
Contact Info
Summerfield Hall Room 118C
Lawrence

---
Biography
—
Joshua D. Miner specializes in video games and animation, with an emphasis in narrative, sound and music. Across this work, he uses ecological aesthetics and speculative storytelling as means for exploring the entanglement of technology and our environment. 
His critical research has examined environmental modeling in games, digital image synthesis, and settler and Indigenous screen aesthetics, appearing in Games and Culture, Animation, The Computer Games Journal, Screen Bodies, and Information, Communication & Society—among other journals and collections. 
His current book project, Biased Render: Digital Images and Settler Culture, explores the settler politics of digital image synthesis across video games, animation and social media, with a focus on digital modeling and rendering as modes of algorithmic embodiment. 
Miner teaches courses in game design and development, screen aesthetics, Indigenous film and games, digital media studies, music for screen media, and environmental media theory.
Education
—
Ph.D. in English, University of Iowa
M.A. in Linguistics, University of North Texas
Research
—
Research interests:
Native U.S./Canadian film + digital media
Indigenous media theory
Tactical and activist media
Digital Aesthetics
Computational media + design
Transmedia studies
Social and participatory media
Critical health studies
Teaching
—
Teaching interests:
Global Indigenous film + media
Activist media studies
Digital media and culture
Transmedia studies
Documentary film + media
Video game studies
Emerging cinema