Friday, September 25, 2020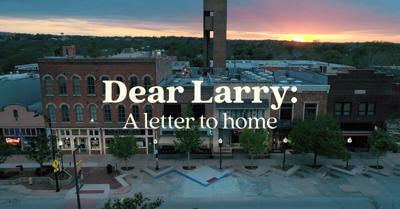 Connor Heaton | UDK
"Part of it is weird, but when does this get crazy?" Marc Havener says, as he remembers how many late evenings he spent waiting in an empty Massachusetts Street for the perfect shot — right when the sun pulls back to give off its best light. The months of work, personal sacrifice and patience he felt would all be worth it for the story he wanted to tell.
Havener, a University of Kansas film school graduate, came back to Lawrence and spent six months creating "Dear Larry: A Letter to Home." It's a short film that documented his hometown's response during the opening months of the COVID-19 pandemic.
The film was released on Sept. 18, during a Facebook event with a live Q&A. The video can be found on Vimeo and YouTube.
Havener's film explores the many people and organizations who stepped up to help the community during its time of crisis. He filmed it all on his own from the beginning of March to July with three cameras, including a drone, and terabytes of unused footage.
Havener says he had been directing films ever since he picked up his dad's camera. He studied his craft throughout high school and college, and graduated from KU with an intent to work as an assistant director.
He worked in Hollywood for 10 years on films like "Wedding Crashers" and "Pirates of The Caribbean," big movies with big personalities and amazing experiences, he says.