Tuesday, October 13, 2020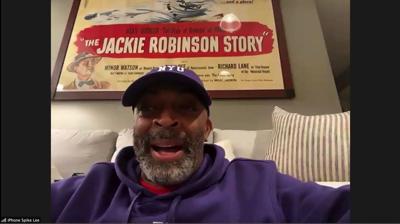 Braden Shaw | UDK
Danny Bilson says it took only one scene for him to realize Spike Lee's latest film "Da 5 Bloods" was special.
Bilson, a co-writer of the film, was watching dailies with producer Lloyd Levin shortly after shooting wrapped in mid-2019.
Bilson was shown two scenes: The first was of the protagonists on a boat in Vietnam, à la "Apocalypse Now." The second featured a moment of reconciliation near the end of the film between Chadwick Boseman's character, Stormin' Norman, and Delroy Lindo's character, Paul.
The scene is a one-shot in the jungle, culminated by a hug of forgiveness between Boseman and a tearful Lindo. Bilson says it's the "pinnacle of the film" and emphasizes how important those emotional moments are for an audience.
"I turned to Lloyd and I said, 'We're good,'" Bilson says on a Zoom call with film students from the University of Kansas, University of Southern California and New York University Friday. "Once he [showed me that scene I said], 'We're good. This scene is killing it. It's the center of the whole movie.'"
For that scene, a spotlight of sunshine is beaming down on Boseman. Lee says they didn't even light the scene, only adding smoke for the serene atmosphere.
"That was God's heavenly light on Chad," Lee says. "You know, and that was a very emotional scene. And to me, maybe I'm biased, but I've never seen a scene where you just had two Black men, grown ass men, showing love to each other."
Lee says "Da 5 Bloods" — Boseman's penultimate film before "Ma Rainey's Black Bottom" hits Netflix in December — has become an entirely different film after Boseman's death on Aug. 28. Boseman
battled colon cancer
while still maintaining an extremely successful acting career, portraying the likes of Jackie Robinson, James Brown, Thurgood Marshall and the Black Panther in several Marvel films.
"Chad was a soldier. He did not want any pity," Lee says. "If I had known he was sick, I don't know if I would have made him do the stuff he was doing. And he knew that, so that's why he didn't tell me."
Read more...