Najmeh Moradiyan Rizi
---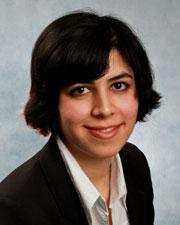 Biography
—
Najmeh is a Lecturer in the Department of Film and Media Studies at the University of Kansas. She received a Ph.D. in Film and Media Studies and a Graduate Certificate in Women, Gender, and Sexuality Studies from the University of Kansas. Her dissertation, titled "Women and Documentary Film in Iran (1997-2020)," examines Iranian women's documentary film practices in the past two decades in relation to both the larger context of Iranian society in terms of its gender politics and the broader field of transnational documentary in terms of its production and circulation practices.
Research
—
Research interests:
Middle Eastern Cinemas
Documentary
Global Women's Cinema
Transnational Film and Media
Selected Publications
—
Moradiyan Rizi, Najmeh. "The Acoustic Screen: The Dynamics of the Female Look and Voice in Abbas Kiarostami's Shirin." Synoptique 5.1 (2016): 44-56.
Moradiyan Rizi, Najmeh. "Iranian Women, Iranian Cinema: Negotiating with Ideology and Tradition." Journal of Religion and Film 19.1 (2015): Article 35.
Book Review of New Media Configurations and Socio-Cultural Dynamics in Asia and the Arab World (2015) by Nadja-Christina Schneider and Carola Richter.
Book Review of Hanan al-Cinema: Affections for the Moving Image (2015) by Laura U. Marks.