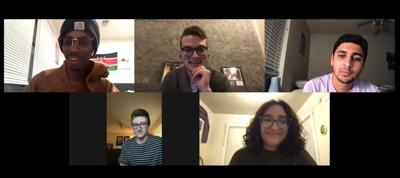 Braden Shaw | UDK
Connor Sandheinrich remembers sitting through a two-day session on foleying — another term for re-recording or recreating audio during a film's post-production process — during one of her first film and media studies classes at KU. At the time, she deemed it unnecessary information.
"You kind of just think, 'Well unless I'm a foley artist, I'm never going to have to do this so I kind of just brushed it off,'" says Sandheinrich, a 2020 KU film and media studies graduate from Waterloo, Illinois.
Fast forward to 2020 and that information comes in handy when shooting without an audio engineer. Sandheinrich shot two short films in 2020. The first was "Uninvited," a horror short film about a woman who "unknowingly plays in a game of cat and mouse with an uninvited stranger," according to the film's description — partly a play on the fears of isolation during the pandemic. The short can be viewed on Sandheinrich's YouTube channel.
"Uninvited" was filmed all in one night with a two-person crew, Sandheinrich and fellow 2020 KU film and media studies graduate Jacob Schermerhorn. The duo had to foley all of the audio in post-production, which is something neither of them had done before. That meant a lot of watching the monitor on playback and some trial and error, which resulted in noticeable frustration.
For example, there's a moment in "Uninvited" when a character pulls a knife out of a wooden drawer. Sandheinrich says it sounds off because in post-production they used metal and not wood. But at a certain point, you take what you can get.
"And now that I have watched it maybe 100 times, it's like, well, now I know how to do this," Sandheinrich says. "Now I tell everybody who's still in film school, 'Learn how to foley.' I promise it'll change your life at least once."
Thus comes the struggles of making films during a pandemic. It's forced filmmakers to learn on the fly.