Tuesday, November 12, 2019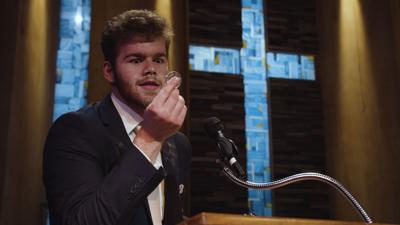 UDK | Paul Samberg
Three roommates at the University of Kansas have worked together to produce a sketch comedy show called "Canceled." The comedy show highlights the worst people found in humanity.
Seniors Riley Fullerton, Marcus Giesen and Jake Honer are three best friends who play original, offensive characters who create conflicts and must suffer the consequences.
Fullerton said he, Giesen and Honer have been roommates for two and a half years and all share a passion for comedy. Over the past few years, the three have come up with a slew of characters and sketches while living together.
This helped draw inspiration when Giesen and Fullerton, both film and media studies majors, began deciding what to focus their capstone senior project on. From there, the two decided to work with Honer, who is majoring in journalism with a minor in film, to create a sketch show that focused on the ideas they've brainstormed over the years.
"We decided it would be fun to work together to create a sketch comedy show that focused on these characters and bits that have made us laugh over the past two years," said Fullerton, a senior from Sioux Falls, South Dakota.
While the three spearheaded the show acting as producers, directors, writers, cinematographers and lead actors for the sketches, they also had help from others. Read more